Meet Our Collection Experts
Stephen Johnson
President & CEO
23 years with the company
Stephen Johnson is a native of Wyoming. He earned a Civil Engineering Degree from the University of Wyoming and is also an ordained minister. Stephen has been in the collection industry since 1999 and is the President and CEO of American Collection Systems, Inc. and Bonded Business Services, Ltd. He has served as a board member of the Associated Collection Agencies for the Wyoming, Colorado and New Mexico unit for many years, and has served as President of the association twice.
Elizabeth Johnson
Chief Financial Officer
15 years with the company
Elizabeth Johnson is originally from South Dakota. Elizabeth started her career with Sears Holdings Corporation in 1997 as a merchandising specialist and store coach who traveled to under-performing/unprofitable stores in the South Dakota and Wyoming districts, making broken stores profitable. In 2007, she came to work for our collection agency as a collections manager, and then took over as chief financial officer in 2009. She served 3 years as a board member of the Associated Collection Agencies for the Wyoming, Colorado and New Mexico unit and is currently Treasurer for the association. She enjoys running, biking, and pretty much anything outdoors.
Suzan Webb
Vice President
15 years with the company
Suzan is originally from Rapid City, SD. Before joining the company, she was a department manager for Kmart. She is responsible for most of the client services that our billing clients take advantage of and is an essential to Bonded Business Services. Not only does she oversee the entire billing department, but also manages every person and process involved.  Since joining in 2007, Suzan has gained extensive experience that allows her to effectively help out with any department. In her spare time, she enjoys watching movies and playing with her kids.
Rosalie Sherlock
Compliance Administrator
23 years with the company
Before joining our debt collections team in 1999, Rosie managed the inventory for a cold storage company for 10 years. She started as a collector and has become our expert in compliance, credit reporting, and dispute resolution. She is an extremely valued member of our team and in her free time, she enjoys reading and doing puzzles.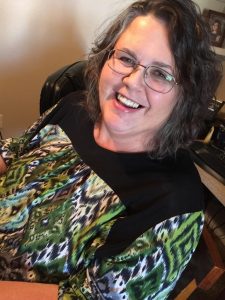 Nesta Romick
Vice President of Legal Services
21 years with the company
Nesta joins us after a long career in medical office management. She is now responsible for overseeing our legal collection staff, providing guidance and leadership. Since 2001 we have been lucky to have her dedication and attention to detail associated with BBS. She works to ensure that all credit and collection procedures, policies, documentation and practices are all in compliance with both Federal and State collection rules, as well as meeting the court's requirements. Under the supervision of an attorney, she prepared our company's legal documents. She also helps to represent our agencies in court when dealing with matters that concern the legal processes involved in collections and other creditor/debtor scenarios. On top of all of this, she handles the important task of bankruptcy compliance. In her free time, she enjoys philosophical discussions and playing with her granddaughter.
Charlie Blake
IT Administrator
15 years with the company
Although Charlie started in our collections department, he's worn many hats. He has worked in the legal department, helped with payment input and entered new business. Charlie's current role is our IT guy/guru, where he streamlines processes for our clients by ensuring that everything is up and running. He is vital to our team, and the most qualified to ensure that our staff has access to all necessary tools to effectively do their jobs. In his spare time, Charlie can be found playing guitar or programming — for fun!
Joshua Romick
Regional Sales Manager
5 years with the company
Joshua has lived in Wyoming for most of his life and has worked for Bonded Business Services since 2017. He started off as a collector then worked his way up with his positive attitude and desire to learn, to collection management and is now the Regional Sales Manager. He strives to make BBS a better and brighter company for all who work and do business here.
Matt Groathouse
VP of Marketing
10 years with the company
Matt is a graduate of University of Wyoming where he earned two Bachelor's degrees in marketing and business administration. He worked for four years in the construction industry, where he was an accountant and responsible for managing a wide variety of tasks and jobs. In 2011, he joined sales and marketing team and has made himself indispensable. In his spare time, he can be found skateboarding everywhere from California to Europe, and even in Japan.
Crystal Martinez
Office Manager
1 year with the company
Crystal makes certain that the day to day functions of the office are going smoothly as well as
raising and maintaining office morale. Crystal is the mother of 4 children, 3 boys and 1 girl; all but the
last boy who is 10 are grown and have moved on with their lives. Crystal's last son is an avid wrestler
and soccer player so much of her free time is tied up with those two activities on the weekends. Crystal
spends as much time as she can make working on her physical and mental well -being as well. Crystal
see's her gifts and added strengths to the company as that of bringing and finding joy in everything she
does and doing it to the best of her ability while letting the people know we're all human and that we
are all just doing our best to get through it happily.